For those who fondly remember the Nokia 3310 the new model will almost be a no-brainer of a purchase. Its low price, pleasing feature set and long battery life make it appealing for anyone looking for a back-up handset, festival phone or just a simple retro buy.
For
Full-on nostalgia hit
Low cost
Snake!!!
Against
Only a 2MP camera
Low res screen
2.5G connectivity
 If any phone can sell itself on nostalgia alone, that phone is the Nokia 3310.
It's one of the most popular mobiles of all time, remembered for its near-indestructible build, long-lasting battery and legendary Snake (well Snake II if we're being accurate) game, and the team licensing the Nokia phone name has jumped at the chance to reignite the love for a phone which was once the leader in the mobile market.
Enter the new Nokia 3310, a lovingly crafted homage to the iconic handset with a helping of modern-day upgrades. If you were a fan of the 3310, the likelihood is you'll want to pick this up.
New Nokia 3310 specs
Weight: 79.6g
Dimensions: 115.6 x 51 x 12.8mm
OS: Nokia Series 30+
Screen size: 2.4-inch
Resolution: 240 x 320
Storage: microSD up to 32GB
Battery: 1,200mAh
Rear camera: 2MP
New Nokia 3310 price and release date
The Nokia 3310 price has been set at €49 (around $40, £35, AU$55 or 20,000 Naira in Buhari dollars fi you'd like), placing it perfectly as a secondary phone purchase and it's one that will likely appeal to both Nokia fans and festival goers.
Some may balk at having to even pay that much for a 'dumb phone', but the spec sheet of the new 3310 does enough to justify the cost.
There's no firm new Nokia 3310 release date just yet, with the firm only confirming that it will be available sometime in Q2 (April-June).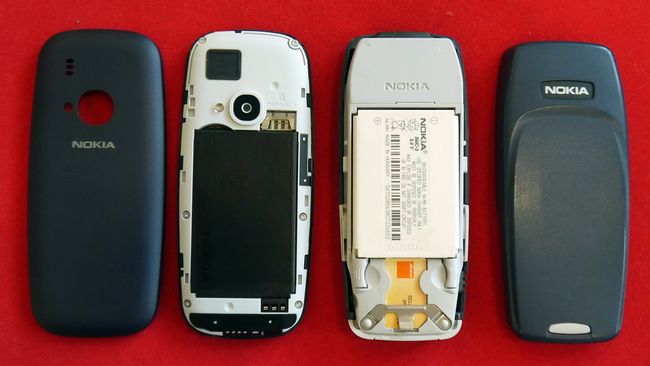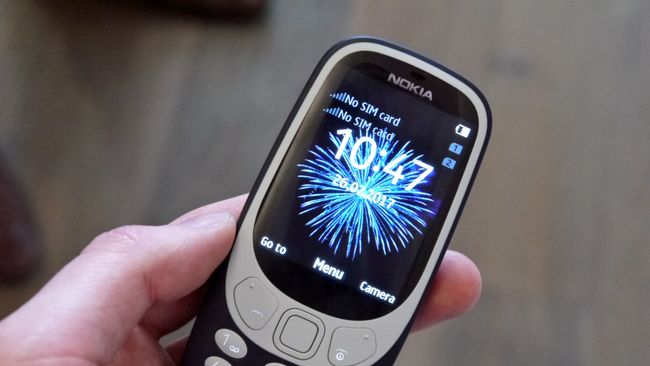 New Nokia 3310 design and display
Looking at the new Nokia 3310 front-on and there's no mistaking the phone it is paying homage to.
The distinctive border around the screen and the layout of the 'num' keys give you the retro throwback, but Nokia has majorly slimmed down and modernized the design making the new 3310 supremely pocketable.
It tips the scales at just 79.6g, making it comfortably lighter than the 137g original, and once you slipped it into your pocket you'll forget it's even there.
The plastic construction feels solid, but only time will tell if it will withstand the kind of beatings the first generation Nokia 3310 survived time and again.
You'll be able to pick up the new Nokia 3310 in the traditional dark blue and grey of the original, but also in the new, psychedelic yellow and 'warm red'. We managed to check out all four colors during our hands on time, and our favorite was the good old dark blue.
Meanwhile the display feels like a real blast from the past, but it's a significant upgrade over the old 3310. The new Nokia 3310 has a 2.4-inch, 240 x 320 full color display which is bright, but hardly crisp. Of course you're paying very little for the phone so it's not an issue, but don't go trying to tap the menu items. Touchscreen this ain't.
Text is perfectly readable though, and the new version of Snake is playable. They're not blockbuster graphics, but if they were it would ruin the appeal of this phone.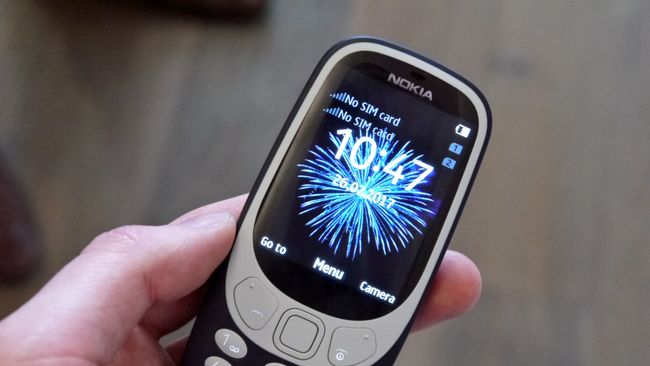 New Nokia 3310 interface and performance
What's waiting for you on screen then? Android? Nope. Windows 10 Mobile? Absolutely not.
Nokia's stuck with its feature phone operating system, with the new 3310 running Nokia Series 30+.
That gives you a number of menu options with classics like Call Logs, Contacts and Messages joined by a calendar, a basic Opera web browser and a camera application.
Oh, and did we mention, SNAKE IS BACK! It's an updated version which uses just the '4' and '6' keys for left and right, resulting in gameplay which is more akin to slither.io rather than the original game.
The four-way direction pad below the display provides an easy way to navigate round the various options, and we found performance to be generally good. Apps do take a split second to load, but considering this is a feature phone it's hard to really complain.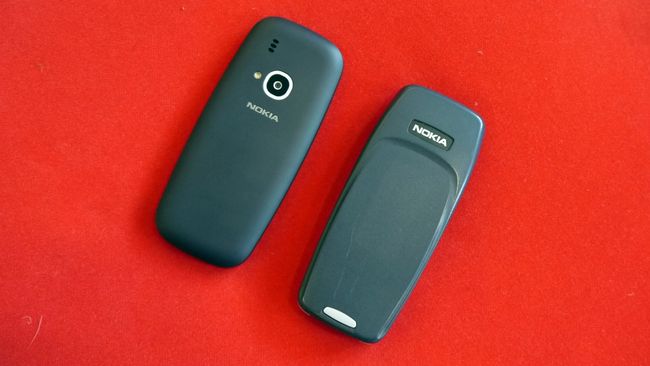 One disappointing point is the fact the new Nokia 3310 is only 2.5G compatible. That means no 3G or 4G data speeds, resulting in a very basic browsing experience.
Certain markets will also be able to download simplified Twitter and Facebook apps, but these weren't available to use during our hands on.
It also lacks Wi-Fi, so you won't be able to connect to a home or office network for a faster connection either. There is Bluetooth though, along with a music player and a 3.5mm headphone jack which allows you to listen to any tracks you put on a microSD card and slide inside the handset.
See how the new Nokia 3310 shapes up against the original 3310 in our versus video below
New Nokia 3310 battery and camera
The original Nokia 3310 was also known for its long battery life, and there's good news for those eyeing up the new 3310.
A removable 1,200mAh power pack is an instant upgrade over the 900mAh of the original, and thanks to the improvements in phone efficiency the new Nokia 3310 boasts 22 hours of talk time and up to 31 days of standby.
That's a huge upgrade over the 2.5 hours of talktime and 260 hours (around 11 days) of standby on the original Nokia 3310. You can charge the new 3310 with a standard microUSB cable too, so you won't need to trawl eBay for the old-school charger.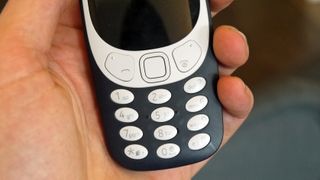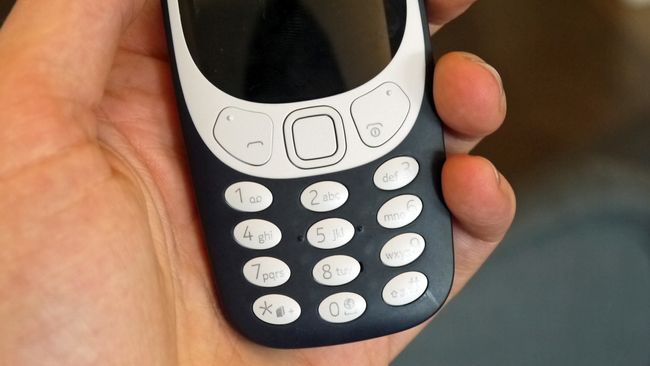 The first 3310 arrived before manufacturers started putting cameras in phones, but this is 2017 and it makes sense for the new Nokia 3310 to sport a snapper – even if it is rather understated.
What you get is a 2MP camera on the rear of the phone. There's no flash, HDR, panorama mode or anything fancier than a simple point and shoot app with a digital zoom. It's not going to dazzle you then, but we can see it being a handy feature on a secondary smartphone.
We snapped a few quick pics during our hands on time with the new 3310 and image quality is as acceptable as you'd expect from a low-res camera.
Early verdict
For those who fondly remember the Nokia 3310 the new model will almost be a no-brainer of a purchase.
Its low price and pleasing feature set – not to mention the battery life – provides an appealing option for anyone looking for a back-up handset, festival phone or just a simple novelty/retro buy.
Those less familiar with the 3310 are likely to be a little more puzzled over this phone's existence, and the hype surrounding it, but it can serve a purpose for pretty much anyone.
MWC (Mobile World Congress) is the world's largest exhibition for the mobile industry, stuffed full of the newest phones, tablets, wearables and more. TechRadar is reporting live from Barcelona all week to bring you the very latest from the show floor. Head to our dedicated to see all the new releases, along with TechRadar's world-class analysis and buying advice about your next phone.
TechRadar