Sony's souped-up PS4 Pro is amazing for 4K TV owner
For
First 4K HDR Sony console
Larger 1TB hard drive
30+ Pro Mode games at launch
Against
No 4K Blu-ray player
Pro Mode support isn't universal
After two names and several months of waiting, the PS4 Pro, at one time code-named PlayStation Neo, has arrived. This is Sony's high-powered sequel to the original PS4 that it launched back in 2013 that has already sold over 40 million units.
The Pro, in many ways, is a rock-solid console that has been tuned for the current year – much like car companies iterating on last year's model with the latest driving technologies or cellphone purveyors adding more memory and higher resolutions to last year's flagship device.
But let's stick to the car analogy for a minute since it's through this lens that the $399/£349/AU$559 PlayStation 4 Pro makes the most sense.
The PlayStation 4 Pro is like a 2016 (insert your favorite car here), it's hands down shinier, faster and prettier than last year's model. Likewise, the PS4 Pro is truly the best system Sony has ever created – it's capable of playing games in 4K HDR, sometimes at a higher framerate. And for that reason, if you haven't purchased a PlayStation 4 already, the PlayStation 4 Pro is an excellent all-around system.
If you have purchased the PlayStation 4 already, you'll need to ask yourself a few questions before buying Sony's new wares: Will you buy a 4K TV sometime in the next few years? How about PlayStation VR? How important do you find higher framerates and 500GB of extra storage? The answer to those questions might be 'no,' 'no' and 'not very,' and if that's the case then Sony's high horsepower system might not make the most sense for you, especially if you're upgrading from an original PS4.
Whether or not the new console will offer benefits for you will vary depending on whether you already own a PS4 system. Do keep in mind that Sony's system, while being a better for the core gamer, might not make sense as an upgrade due to certain deficiencies in the hardware – home entertainment enthusiasts will cringe when they hear Sony forgot (or more likely forgoed) stocking the PS4 Pro with an Ultra HD Blu-ray player.
Also, like the Xbox One S that launched a few months back, the Pro's launch is a good time to reevaluate Sony's PS4 platform, now approaching its third birthday.
The platform has more games than it did three years ago, obviously, but new systems have also emerged: PlayStation Vue, PlayStation Now, PlayStation Music and, most importantly, PlayStation VR. We'll take the time later to talk about how these systems shape the platform and help make the PlayStation 4 a great place to game.
Finally, at the end of the review, we'll talk about your best course of action going forward, even if that means picking up an original PS4 instead of a Pro.
For now, though, head on over to page two to see the design of the PS4 Pro.
Design
Slightly bigger than standard PS4
Additional 3.1 USB port on the rear
Upgraded Wi-Fi and Bluetooth
While we wouldn't say the PS4 Pro's design completely replicates the PS4's, there are a ton of similarities – the first and foremost of which is the decision to keep the console a flat parallelogram. When Sony first unveiled the PS4 Pro, there were jokes that the system felt like two PS4s stacked on top of one another, but the second you pull the system from the box that observation becomes less of a joke and more of the reality of the situation.
Compared to the original PS4's  27.5 x 30 x 5.3 cm package, the PS4 Pro will take up a bit more shelf space – 29.5 x 32.7 x 5.5 cm (W x L x H), to be exact. Because it's both wider and taller than the original PS4, you'll probably have to put the original on top of the Pro if you plan on keeping both. Along the same lines, it's a fair bit heavier, too. However, unless you constantly move your console from one house to the next, we can't the extra weight will be a massive headache.
The system is encased in a matte black shell, similar to the one used on the PS4 Slim released last month, however this time around you won't find rounded corners along the edges. The PS4 Pro is sharp in every sense of the word.
Another difference is the silver PlayStation logo that sits in the center of the top surface that adds a nice touch of elegance. The other minor difference is the power cable that the PS4 Pro uses a bulkier female connector to draw more power instead of the generic two prong cable Sony has traditionally supplied with every PS4.
On the front of the console, you might notice that there are no touch-capacitive buttons. Sony's decided to ditch the accident prone pads for a more traditional button that sits beneath the disc tray. The button is made from a sort of cheap plastic, which is scary, but it does the job just the same. The same is true for the eject button which sits in the same spot on the right side of the front face.
Let's talk I/O for a second. There are two Superspeed USB 3.1 ports on the front panel and one in the back, used for syncing and charging controllers as well as connecting your brand new PlayStation VR if you've just bought one, and HDMI 2.0a, ethernet, optical audio and PlayStation Camera ports along the back next to the power connector. You won't find an HDMI input port here like you would on the Xbox One, however Sony's work around to its cable conundrum, PlayStation Vue, is an arguably effective one.
One final point here: While the exterior is nice, Sony has spent more time working on the inside of the console. Inside you'll find a larger 1TB hard drive, which is 500GB more than you'll find on the original PS4 or the base model of the PS4 Slim. There's also an improved Wi-Fi antenna that uses dual-band 802.11ac wireless and Bluetooth 4.0 instead of 802.11 b/g/n and Bluetooth 2.1.
While the swapping out of a Wi-Fi antenna may not seem like a big deal, it helps the PS4 Pro download games faster. A 160MB game (Pac-Man 256) downloaded in under a minute on a 15Mbps connection – something that should have always been the case, but wasn't, on the original PS4.
PS4 Pro controller
Minor changes made
Can be used in wired or wireless modes
Light bar added to front of controller
But a new system needs a new controller, and Sony is more than happy to oblige here.
The controller that ships with the new PS4 Pro is the same one that will ship with all PlayStation 4 Slim systems going forward.
It is, essentially, a very small iteration on the DualShock 4 you've been using for years. There's a light bar built into the touchpad – a nice feature when you don't want to turn the controller over in your hand to find out what player you are – but more importantly the triggers have been tweaked and it feels a bit lighter in the hand.
Plus, as we pointed out in the PlayStation 4 Slim review, the controller can also switch seamlessly between Bluetooth and wired mode when it's connected to the system via USB cable. While that might not sound like it's a huge addition, for a pro gamer, that can be the difference between a win (and a pot of e-Sports prize money) or a loss.
Performance
Simple, if slow, data transfer process
Limited benefits for 1080p TV owners
Looks great on a 4K TV
Substantial improvements for virtual reality titles
Once you have your new PS4 Pro hooked up, it's time to turn it on and get it setup. Thankfully, setting up the PS4 Pro is still lightning-fast. You can cruise through the menus without breaking much of a sweat, inputting the most basic of information like which timezone you're in, your Wi-Fi network ID and password and which language you'd like to use.
But after the introductory information is set up, things start to slow down. You'll need to download a 312MB patch to bring the included software up to version 4.05 which, depending on your connection speed, might take a while.
Then it will come time to transfer data. The process is relatively straightforward: hook both systems up to the same Wi-Fi network and connect them to one another via an ethernet cable and you're good to go. We had about 158GB of data on our old PS4, and that took about an hour to transfer to the PS4 Pro.
We really liked how easy Sony made it to transfer the content from one PS4 to the next, and even though we had to wait nearly an hour and a half for the process to complete, when all was said and done it had everything from our old console, exactly the way we had it set up previously.
But let's get to the meat and potatoes here: actual performance. As you might know, the PlayStation 4 Pro's biggest draw is that it offers "enhanced performance" for 30 of your favorite titles – including all games released on PlayStation VR – as well as 4K HDR streaming from Netflix.
Enhanced performance can manifest itself in different ways – one way might be that games will play at 4K resolution at 30 frames per second; another might be more detailed textures, or even the option to choose a higher framerate at 1080p resolution. It's up to developers to choose how they want their games to take advantage of the upgraded processing power of the Pro in a feature Sony calls "Pro Mode."
As of today, there are currently 30 games that support Pro Mode in some way, shape or form. You can read the full list on this PlayStation 4 Pro Games round-up, but some highlights of the list include The Last of Us Remastered, The Elders Scrolls: Skyrim Special Edition, Titanfall 2 and Uncharted 4: A Thief's End.
So what can you expect when you pop in some of these games? We've broken down the performance based on what screen you'll be potentially viewing it on.
Performance for 1080p TVs
Let's start with the 1080p TV owners. Admittedly, the biggest draws to Sony's mid-gen upgrade is 4K and HDR functionality, both of which you'll be missing out on. But, what you will see a benefit on is the framerate of some of your favorite titles. In Rise of the Tomb Raider: 20 Year Celebration, for example, you can expect increased refresh rates that make the action feel a whole lot smoother while textures get a bit of extra detail as well.
We weren't completely blown away with what the PS4 Pro offers for 1080p TV owners. While extra framerates are a nice bonus, they're just not enough of an advantage to warrant spending the extra cash. But Sony didn't design the Pro for 1080p, it was designed for…
Performance for 4K TVs
Here's where things start to heat up a bit. With a 4K TV in your living room, old games start to take on a whole new light – that's especially true if your TV is HDR-capable. Games like Infamous: Second Son have been given a facelift to utilize both technologies, making particle effects pop off the screen and contrast ratios spike through the roof. One point I'd like to make especially clear here however, is that PS4 Pro isn't capable of outputting native 4K for all games – every title that supports 4K Pro Mode at this point has been upscaled to that resolution. That doesn't mean games won't look absolutely incredible on your 4K TV – they most certainly will – however you shouldn't expect them to look gaming PC quality just quite yet.
Performance for PlayStation VR 
But there's one last area that we wanted to cover here, and that's how PS4 Pro enhances the PlayStation VR experience. Ever since its announcement, Sony Interactive Entertainment CEO Andrew House has touted the PS4 Pro's ability to enhance PSVR games. We're happy to report that he's absolutely right – games run noticeably better on this machine. PS4 Pro Mode titles feel like they're not only better looking with more detailed textures, but they also feel a hair faster in terms of framerate on the new system.
The bottom line? If you're new to the Sony ecosystem and plan on buying a PlayStation VR alongside a console, you should definitely shell out for the PlayStation 4 Pro.
The PlayStation platform, three years on
One of the greatest pleasures for a tech journalist is watching a platform blossom from a dawdling little toddler, devoid of any serious content and full of big ideas, to a fleshed out fully functional battlestation. It's taken three years to get to this point, but we finally feel like Sony's system is hitting its stride in this regard.
What we mean there is that not only is the PlayStation Store full of great content to purchase – with literally everything from super niche indie darlings on there to big budget titles, movies and music available – but there's always something new waiting for it on the horizon.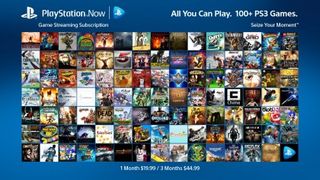 Most recently that was PlayStation Now streaming on PC. Before that was PlayStation Vue announcing its expansion to every city in the Continental US. Before that it was Sony dumping its lackluster proprietary music service for a partnership with Spotify. Every month or two brings with it a platform update that will meaningfully change the way you interact with the system – and that's why we feel so comfortable giving it a good recommendation.
Sure, you can find party chats, Twitch integration and apps like YouTube and Amazon on any platform, but Sony always finds some way to make you feel like you're part of something bigger.
What the Pro adds to the conversation is 4K streaming … well, it will as soon as Netflix updates its PS4 app. Sometime soon the platform will support 4K video streaming, and that in many ways will help not only bolster the number of people using 4K, but perhaps light a fire under content creators' posteriors as well.
For the 4K/HDR TV owner, the PS4 Pro's benefits speak for themselves. It offers high-resolution gameplay at higher framerates that you will notice and appreciate.
However, for non-4K TV owners, especially those who don't think they'll end up with a PlayStation VR, the benefits are a bit murkier. Sure, you'll still get a nice bump in framerates and better textures in 30-45 games. However, by and large the difference you'll see is negligible. The PS4 Pro is just a souped-up PS4 after all.
We feel a slight twinge of compunction when we say "It's just a PS4," as that implies that the system Sony made isn't an already wonderful piece of technology. But because the original was so wonderful, we set the bar higher for PS4 Pro – a bar that I don't feel like is totally met for the majority of gamers out there. The lack of a UHD Blu-ray player hurts the value of the system, and while we appreciate 4K/HDR capabilities on a select few titles, the system doesn't scream "this is a must-buy" to us.
If someone asked us to summarize our opinions on the PS4 Pro in one sentence, we'd say: How much you'll appreciate the console and its capabilities comes down to your TV.
We liked
4K resolution gaming, obviously. If you have the equipment, some of your favorite titles are going to look absolutely incredible on the PlayStation 4 Pro. Add to that High Dynamic Range capabilities (again, if your TV has it) and you have one of the best visual experiences on any console, bar none.
I also appreciated the two minor tweaks to the inside of the console itself – the larger 1TB hard drive and upgraded 802.11ac Wi-Fi antenna. Games are not only downloaded faster on this system but, thanks to an extra 500GB of storage, you won't have to make the decision which games to keep and which ones you need to uninstall to clear up some room.
We disliked
If I ever find myself in a conversation with a Sony engineer, the first thing I'm going to ask about is the PS4 Pro's lack of a 4K UHD Blu-ray player. I've tried to avoid the direct comparison to the Xbox One S throughout the review, but it completely boggles my mind that Microsoft – the company that once thought HD DVD would beat Blu-ray – now offers a 4K Blu-ray player while Sony's does not.
Beyond the 4K Blu-ray player, however, we were both surprised and disappointed that the PS4 Pro's extra processing power only benefits specific games that have been specially coded by the developer to enable it, and that only 30 games will support it right out of the gate. That said, a catalog of 30 games is nothing to scoff at, and Sony has plans to bring that number up to 45 titles by the end of the year.
Final verdict
Let's return to the car analogy to really drive this point home: The PS4 Pro is truly a marvelous piece of machinery. It's capable of so much and yet, disappointingly, there's a huge swath of gamers who might not ever get to see it running on all cylinders simply because PS4 Pro Mode support is limited to 30 titles, many of which only benefit 4K TV owners.
Sure, the latest model of (insert your favorite car here) might be capable of reaching incredible speeds (read: capable of 4K), but if you're limited the law to stay under a certain speed (read: using a 1080p TV), then what good is all that speed?
Of course for those of you living in the breakneck world of the future where 4K HDR TVs are widely available, or if you plan on taking full advantage of PlayStation VR when you buy one, then the PS4 Pro is well worth its $399/£349/AU$559 price tag.
But if you're yet to make the jump to 4K or VR, then you might want to hold off on the PS4 Pro for the time being.