Apple's leading laptop finally catches up – and then some
Our Early Verdict
To say that the new MacBook Pro is a massive improvement over the previous would be an understatement. It's more portable and more powerful, not to mention more enjoyable to use. But, it's tough to justify the premium for that Touch Bar, no matter how cool it is.
For
Super thin and light
Touch Bar smartly designed
Loads of USB-C ports
Huge trackpad
Against
Touch Bar needs more app support
Direct light washes out Touch Bar display
It's finally here: the new-and-improved MacBook Pro, and it seems to have closed the gap between it and the competition – and them some.
But, the MacBook Pro has done so in ways that matter perhaps even more than Gigahertz and pixels. This is now Apple's most usable laptop yet. Sure, it's thinner, lighter and more powerful, but the improved keyboard and trackpad stand to set Apple apart in an even bigger way.
And, that's before we even get to the Touch Bar (though its mileage may vary).
MacBook Pro price and release date
The spankin' new MacBook Pro is available for pre-order right now. As for when you'll get it should you pre-order, that's another story.
The 13-inch version with standard function keys and two fewer USB-C ports will ship the day you pre-order it.
However, if you want one of the fancy Touch Bar versions, that won't begin shipping until two to three weeks from now.
Here's how much the MacBook Pro costs to start, broken down by version:
13-inch MacBook Pro (no Touch Bar): $1,499/£1,449/AU$2,199
13-inch MacBook Pro (Touch Bar): $1,799/£1,749/AU$2,699
15-inch MacBook Pro: $2,399/£2,349/AU$2,999
Now, let's get into what's new about the refreshed MacBook Pro, and what it feels like to use. Spoiler: it's better – way better.
Design and feel
At first glance, not much has changed about the MacBook Pro's design. The profile or silhouette generally remains unchanged, save for finally (sadly) losing the illuminated Apple logo on its lid in favor of chrome.
But, take a closer look, and you'll see that nearly everything has changed. The 13-inch and 15-inch versions of the new MacBook Pro are 17% and 14% thinner than their predecessors, respectively – to the tune of a 14.9mm-thin 13-incher and a 15.5mm-thin 15-incher.
Naturally, with a thinner chassis means lighter weight. The 13-inch version weighs just 3 pounds (nearly half a pound lighter), while the 15-inch model hits the scale at 4 pounds (also shaving off nearly half a pound).
While Apple wouldn't let you forget it, that makes the 13-inch MacBook Pro now thinner and lighter than the latest (and likely last) MacBook Air. Upon lifting the device, you can definitely tell.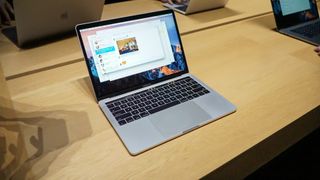 As for the keyboard, Apple claims its second-generation butterfly hinges vastly improve the typing experience from what it was on the 12-inch MacBook. Having recently taken the latest 12-inch MacBook for a test drive, we can attest to these improvements.
Travel is deeper, feedback upon releasing your fingers from a key is punchier. Frankly, this is what the first iteration of the new MacBook keyboard should have been – of course, that's easy to say.
The Force Touch  trackpad has also been hugely improved. For one, the thing is damn enormous – twice as spacious as that on the previous model. This is the kind of trackpad we've wanted for a long time on MacBooks, and we finally have it. Plus, activating Force Touch functions, like word lookups, requires much less, well, force than before.
 The Touch Bar, and how it works
Now, talking about how the new MacBook Pro feels to use brings us to the tiny elephant in the room: the Touch Bar with Touch ID. It's a Retina (read: OLED) touch display underneath a matte surface, and that's key: it means way less smudging on a screen you're supposed to be touching all of the time.
And yes, if you're wondering how this little screen performs under direct light: like any matte screen, not very well. But, it's not as if the screen's content is unrecognizable under such conditions – there's just a blatant difference between its look under direct and indirect light.
As you expect from Apple, the way the Touch Bar works is stupid simple. For one, in general use, the Touch Bar just replicates the media-first functions you're used to from previous MacBooks.
But, when you enter an app supported by the Touch Bar directly – like most Apple-made apps and some third parties, like Adobe Photoshop – you're presented with an app-specific icon toward the left of the Touch Bar. Pressing this summons a series of app-specific functions.
For instance, when using Messages, this icon renders as a smiley face, offering you the breadth of emojis you're familiar with on your iPhone. It even remembers your most-used emojis if you're using Messages on connected iOS devices via the same Apple ID.
Opening the Maps app introduces a directional arrow icon, which when pressed presents a series of specific commands, like walking, public transit and driving directions, or specific types of locations of interest to hone in on.
The Touch Bar supports 10-point multitouch as well as gestures, though we doubt there will be any applications of the tool requiring all 10 of your digits, much less fit them all on there.
All told, the Touch Bar works as seamlessly as you'd expect from the company: Apple wrote the playbook on touch devices, practically.
Regardless, that still doesn't make the Touch Bar hugely useful – we're having a hard time seeing anything that the Touch Bar can do vastly better or more easily than the MacBook Pro's much-improved keyboard and trackpad. Even before the improvements, weren't they just fine?
Well, except for DJing: this thing is going to be a record scratcher's dream.
What's inside
Powering the entire range of MacBook Pro models, including the one sans Touch Bar and with just two USB-C ports, are 6th generation (or Skylake) Intel processors – not the brand new Kaby Lake chips. (The 13-inch models offer dual-core i5 or i7, while the 15-inch model offers quad-core versions of those chips.)
It's a surprising (if even disappointing) move, but we doubt it's going to mean much to the overall experience. If anything, using chips that have been in cycle for longer should mean fewer issues.
Backing that up is Intel integrated graphics on the 13-inch models, meanwhile the 15-inch version offers AMD Radeon Pro 450 graphics with 2GB of video RAM to start. (You can also upgrade to the Radeon Pro 460 chip with double the video RAM.
As for storage, all models start with 256GB of solid-state storage, upgradeable to 1TB in the 13-inch versions and up to a massive 2TB in the 15-inch version. Apple claims that all of these drives are markedly faster than those in previous MacBook Pros, but we'll have to save testing that for a full review.
One the memory front, the 13-inch models start with 8GB of RAM, upgradeable to 16GB – the 15-incher just comes with 16GB and calls it a day.
All of this sits behind Apple's Retina display that, save for a 67% increase in brightness and the same boost in contrast, remains the same resolution. So, that's 2,560 x 1,600 on the 13-incher, and 2,800 x 1,800 on the 15-inch model. Regardless, the screen looks as gorgeous as ever, and media professionals will appreciate the wider color gamut.
And finally, the connectivity on offer amounts to four USB-C ports with Thunderbolt and charging, and 802.11ac Wi-Fi and Bluetooth 4.2 round out the package. Of course, none of this saves you from having to buy at least one adapter – especially if you're an iPhone user that likes to hard wire.
 Early verdict
There's no doubt that this is the best MacBook Pro ever made. It's thinner, lighter, more powerful and has improved inputs on top of a brand new one, the Touch Bar. If you're in the market for a laptop upgrade, you just found one of the most worthy options around.
But, we're having trouble reconciling the Touch Bar, especially for the premium it presents when next to the version with standard function keys and half the USB-C ports.
It costs another 300 bucks to get an insanely cool feature that, frankly, you might not even use. (Compound that with being asked to pay $400 more for the new entry-level MacBook Pro now than before – ouch.)
All told, though, this is the long-overdue MacBook Pro refresh we've been waiting for. It's thinner, lighter, more powerful and easier to use than before with improved inputs. The MacBook Pro was lagging behind the competition for a while there, but now it's caught up and then some in ways beyond just "more power." To know by exactly how much, you'll have to wait for our full review.